Infinitum Marketing Tools
Generate higher traffic and grow your wealth with our marketing tools
Marketing and advertising support is a vital element in helping our partners maximise their reach through increased exposure on selectively effective media platforms. We aim to cater for different marketing and advertising needs by customising our offerings to partner requirements and language needs.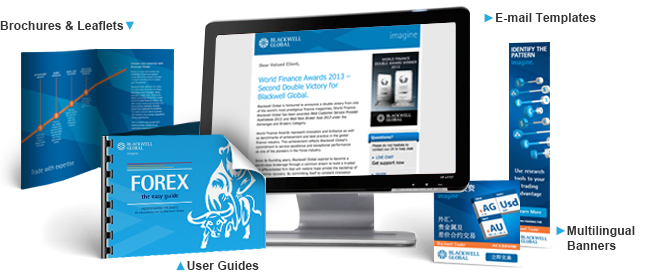 Wide Selection of Marketing Tools

Whether you are promoting your service through traditional media or have a preference for online advertising, we offer a wide selection marketing collaterals to help you maximise your exposure. We provide multi-lingual banners, landing pages, brochures and leaflets as well as promotional e-mail templates and user guides.






Accurate Tracking and Compensation

Each of our partners are dispensed with their own private and personalised URLs and tracking links. This ensures all rebates for our partners are paid out accurately and efficiently. Infinitum, our back-office system, acts like your personal assistant, offering you round-the-clock, instant access to your administrative details and financial breakdowns.
Form successfully submitted to Blackwell Global
Thank you for contacting Blackwell Global. We will respond to you as soon as possible.
Factsheet Request Form
DISCOVER A WORLD OF POSSIBILITIES.
UNLOCK YOUR BUSINESS POTENTIAL.
Get the Partnership Factsheet delivered straight to your inbox simply by selecting the programme of your interest and providing your e-mail.